How to Care for the Leather on your Classic Motorcycle
January 28, 2021
How to Care for the Leather on your Classic Motorcycle (and your Boots too!)
–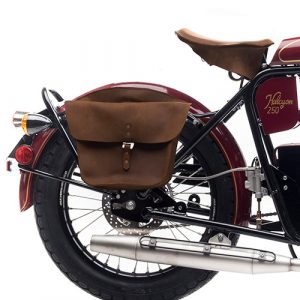 Proper care for your classic motorcycle and its leather fittings prolongs the life of your seat. It also prevents discoloration and cracking that happens over time. A good rule of thumb is to use a conditioning agent on your leather a couple of times a year. We prefer it when winterizing our bikes, as well as in the spring, lightly. A leather conditioner can do a lot to bring tired, worn-out hide back to life.
–
We carry three leather options that are available on our Janus Halcyon 250. Those colors are Desert Brown, Redwood, and Black. Our Phoenix and Gryffin motorcycle models have coordinating vinyl options, too. All our leather fittings and proprietary leather bags are chrome-tanned by an expert Amish craftsman, a saddle maker, and made here in Indiana, USA.
–
In 2017 we modified our leather colors than those currently in production. If you are lucky enough to have one of those rare birds and are looking for any replacement pieces, we can help you out over the phone. Please give us a call to place an order for any additional upgrades in Saddle Brown or Old Burgundy.
–
If you live in a wet climate or tend to be more of an all-weather rider, do consider the use of a waterproofing agent to your seat, battery cover, and any saddle or tools bag upgrades (left) on your bike in the spring.
–
Live in a dry climate?
Make a leather conditioner your best friend to keep your skins supple and prevent cracking. All of our leather goods are made like fine wine, they get better with age, as long as you take care of them…
After a season of mud and salt, your boots and the underside of your saddlebags benefit from Obenauf's Cleanit. Even more, it is a non-detergent, plant-based formula that gently lifts away dirt and removes surface grime to prevent your leather from becoming dried out and brittle.
–
This product should be your first line of defense in protecting the longevity of your leather products. It has a clean, light citrus scent. Use liberally on your boots, jacket, gloves, saddle seat, and bags; even your car interior feels cleaner and as fresh as the day you bought it.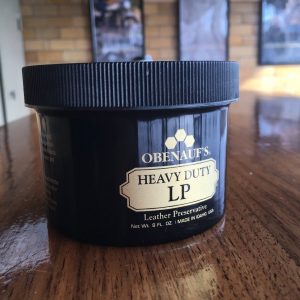 This product is for use on seats, saddlebags, and battery covers. Apply copiously on seams and edges, it protects and preserves your leather from all types of weather.
–
Made from a proprietary blend of beeswax and plant oils designed to melt when spread on with your hands. This product conditions your skins and restores sun-faded leathers. It brings out the natural color and patina to your heirloom motorcycle seats, bags, jackets, gloves, and boots.
–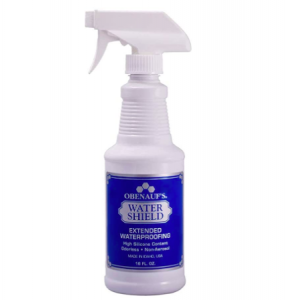 Water Shield is a must-have product to have in your arsenal. Easy to apply and will not cause discoloration, Obenauf's Water Shield is our go-to product that provides a durable and long-lasting waterproof coat to all our leathers.
–
Thanks to the silicone-base, this product is perfect for use on seats, saddlebags, boots, gloves, and other places susceptible to wet weather. It's also ideal for outdoor equipment and marine applications. And it's not just approved for leather products, Water Shield is also great for use on fabrics such as horse blankets, outdoor cushions, and tents as well.

Unlike others on the market, this product won't harm glue, seams, or stitching on handcrafted leather products.

Don't worry about harsh odors or weird fragrances when using this product, as it is completely odorless. Water Shield still allows that genuine leather smell to permeate. Comes with a spray pump-action that allows for adjusting the concentrations for use on different surfaces.

Thanks for reading, and please, ride safe!
–