11 Ways to Increase your Visibility While on the Road
February 4, 2021
11 Ways to Increase your Visibility While on the Road

Unlike driving a car, motorcycling is an active adventure, more cerebral, more daring. But, let's face it, some drivers out there are not paying enough attention to the other drivers on the road. Add that to the fact that there is an increased number of things today that are distracting drivers. That said, there are several things you can do to help other drivers see you, and everything you can do to increase your visibility keeps you safer while riding.

It is good to keep in mind that a motorcycle has a more narrow profile than a car. I know. We are stating the obvious here. However, this fact alone contributes to your being less visible on the road than larger vehicles and, thus, increases your risk. It is unfortunate that in most motorcycle crashes that involve cars, the car drivers often state that they did not see the motorcycle. That's why we put together this shortlist of simple things you can do to improve the likelihood of being seen while riding a small, two-wheeled vehicle.

Turn Signals
This seems like a no-brainer – but always use your turn signals and don't make sudden turns. Use your turn signals when changing lanes, entering or exiting a freeway, even when no one else is with you. And, almost more importantly, turn your turn indicators OFF when your turn is complete. This makes sure that drivers around you know what you're going to do. Check your lights regularly and carry a replacement on you.

Lights
High Beams Use your high beams when riding during the daylight hours. Low beams at night and in foggy weather.
Flash your Brakes When braking, flash your brake lights a few times before real braking. This is good to do especially when you have traffic following a little too closely on your tail, or when you stop somewhere that is not completely clear that it is a stopping place.
Passing Lights Use your "Passing Light" to flash your headlight at oncoming traffic or when approaching intersections. (New feature on all Janus 2021 models)

Proper Lane Usage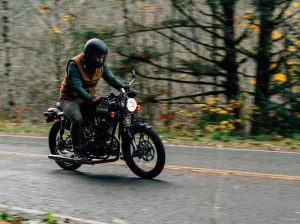 Use the whole lane when riding – consider your lane, broken into thirds, and use whichever third of the lane allows you to be the most visible depending on the current traffic situation. (Consider other drivers' blind spots, vehicles in front of and behind you)

Real Bikers Don't Just Wear Black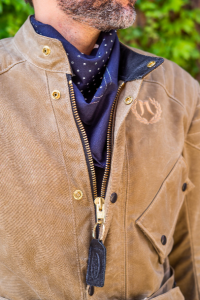 When selecting jackets consider a different option than the standard black options. Bikers don't have to wear black. Vests or reflective tape is a low-cost way to increase the visibility of items already in your wardrobe. Of course, there are plenty of other options to peruse as well, such as the
Vanson Touring Jacket by Janus Motorcycles
found here.

Moto-Rucksack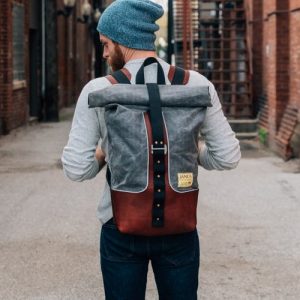 Stylish exterior, the
Janus Moto-Rucksack
features high-visibility piping along the back of the bag. It is an ideal carry-all for a motorcyclist, with adjustable shoulder straps and a security strap, durable aluminum closures, and waterproof lining. This bag is a must-have for motorcyclists and all two-wheeled commuters! We designed our Leather & Canvas Rucksack with classic styling cues, eschewing the too-typical space-suit look for something more timeless. This rucksack looks good when you are not on your motorcycle, too. Hand-crafted locally.

Moto-Messenger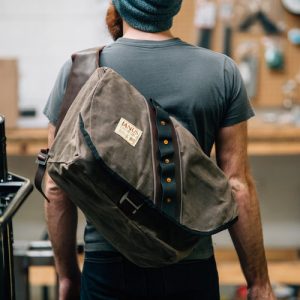 Janus Moto-Messenger
features subtle, yet reflective piping asymmetrically lined on the face of the bag. The Moto-Messenger is going to look good and work well anywhere, even while you are dodging snowflakes on an autumnal last ride. Additional details include hand-hammered copper rivets on stress points with 6061 Aircraft-grade aluminum buckles, leather shoulder strap with an over-the-chest enclosure, and waterproof liner. Made from Martexin Gridwax canvas & full-grain leather construction.

Space Cushion

Keep your distance when traveling behind large trucks or semis. A comfortable cushion between you and vehicles in front of you does not just provide you with more braking room in the event of a quick stop; distance also allows the driver to actually see you.

Bright White Helmets
 See our current
Biltwell
offerings, currently in stock!

Present Yourself
When stopped at an intersection, always present yourself to all traffic lanes before pulling forward into the intersection. Pull past the stop line safely so you have full visibility of all oncoming traffic.

Reflectors
Add them. We carry these license plate reflector bolts, easy to use, and cheap as all getout.
Buy them here
and become $6 poorer, but $6 richer in light reflection.

Horn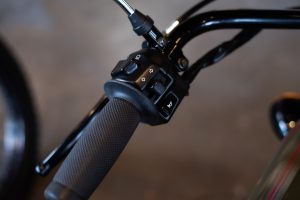 Unsure if a driver sees you? Use your horn, unabashedly. Replacement horns can be purchased here. (link)

And remember the only person's eyes that you can trust are your own, don't trust that others can and do see you. Drive defensively, drive safe.


Thanks for reading, and please, ride safe!