2021 Model Year Update
November 25, 2020
Janus 2021 Model Year
Goodbye 2020, Hello 2021 Janus Models! We are excited to introduce the 2021 Janus Model Year! All three models of our classic motorcycles see improvements in their ergonomics and feature set:
NEW STANDARD FEATURES:
Digital Speedometer: Our new Digital Speedometer is manufactured by MMB in Austria, and is a perfect complement to the stripped-down instrumentation of Janus bikes. It provides an accurate speed, several trip odometers, a voltage readout, a clock, and a customizable backlight color. The LED backlight is brighter for easier identification of neutral, turn signals, and high-beam indicators. This speedometer was installed on many 2020 builds and was originally intended to be a part of an early 2020 price increase, which has been postponed until now, on account of the global pandemic. This is a significant upgrade over the analog speedometer!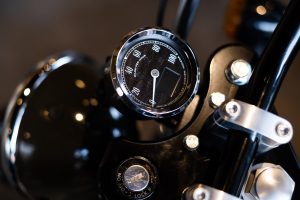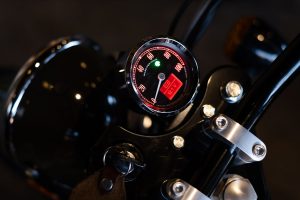 New and Improved Switches: Our new handlebar switches are more ergonomic, with a right-side kill switch and a pass (high-beam flash) trigger on the left.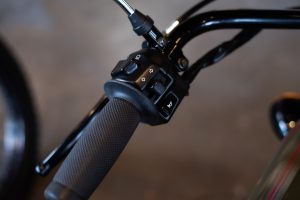 New optional LED headlight: Our new LED headlight (upgrade only) has a halo-style daytime running light, with punchy low and high-beam function. See and be seen even better, now! We are discontinuing our LED signals and brake lights due to sourcing.
The Hand Painted Number Plate is a standard option on Halcyon and Phoenix in 2021! The Gryffin Race Number Plate is gaining in popularity and is offered in two colorways: black and white or to match your primary paint/pin combination, with a beautiful beaded and pinstriped edge.
Black Powdercoated Bars are now standard! Get them polished, along with your exhaust and deluxe tank for an extra chrome-look!
Improved Braking Balance: On our 250s, the front brake has always been the heavy lifter, with a dual-piston disc setup. As are many motorcyclists, we at the shop were front-heavy in our own riding preference, as well. However, we've heard from our customers that balancing out the front and rear a bit would give riders a little extra bite on the rear brake.
IMPROVED DETAILS:
Leather trim: Our leather craftsman has added beautiful edge detailing on all straps on saddlebags, battery box covers, and leather storage for 2021.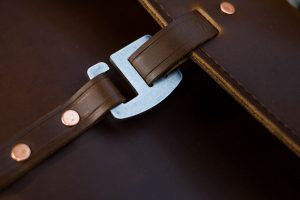 Key switch shield: A small detail indeed, but we love making small improvements like this! We've added a small black shield to the front of the key switch to cover and guard the wiring.
---
PRICING:
The 2021 Phoenix and Gryffin models start at $7895
The 2021 Halcyon model starts at $7495.
Our Halcyon, Phoenix, and Gryffin models are made to order, with many options that allow for each rider to create a one-of-a-kind motorcycle with hundreds of color combinations and kits available. We are proud to offer this level of customization and personalization with a low 4-6 week lead time!
Also new for 2021 is the Halcyon Base, with carefully chosen features and colors to allow a lower starting price and immediate availability. The 2021 Halcyon Base is available in Olive Drab (with Cream pinstripe) and Aga Cream (with Gold pinstripe) with a Number Plate standard. Saddlebags, Highway Bars, Second Mirror, and Eyelet Bolts are available as add-ons, too. The Halcyon Base is produced on a weekly basis and is available immediately or near-immediately. The Halcyon Base starts at $7095 and is now available.
Janus has not raised its prices in three years, however, because a combination of an improved and expanded feature set, increased materials costs, and international tariffs make the choice clear. We appreciate your continued support and interest in our motorcycles!
We are proud to handbuild one-of-a-kind motorcycles, to order, for more and more of the most discerning and passionate riders in the motorcycle world!
Official Janus Gear can only be found at www.janusmotorcycles.com
Looking for more about us? Read on here!