Our Most Popular Motorcycle Jacket. Here's Why.
January 21, 2021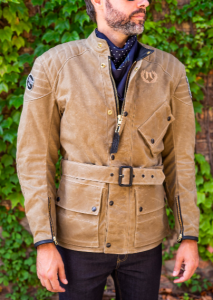 Introducing the Janus Motorcycle Touring Jacket by Vanson Leathers.
Before a dive into the specs on this jacket, let's talk about a little American company called Vanson Leathers, shall we?
Founded nearly 50 years ago and located in Fall River, Massachusetts, Vanson Leathers specializes in industrial strength motorcycle jackets. Vanson jackets are handmade in America, one at a time. And that's not the only reason we love them.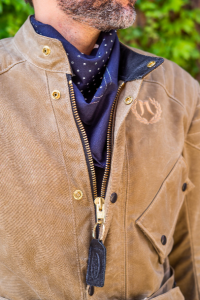 Each jacket has a unique reference number stamped on the interior. Your jacket will come with a keyfob with the garment number stamped in it should you ever need it. The reference number is like the jacket social security number. Vanson can pull your jacket specs to see when it was issued, the exact sizing, materials, and process. Rest assured,  Vanson jackets are not mass-produced. Highly skilled craftsmen handle, cut, and sew each piece to ensure exact fit and finish. Our lead motorcycle designer and co-founder, Richard Worsham, worked in tandem with the Vanson design team to create our custom touring jacket.
The Protective Outer Shell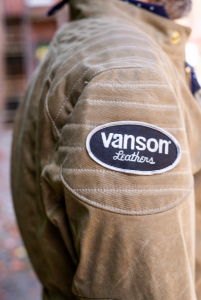 The overall shell is made with a waxed canvas that is easily-reconditioned. They also come standard with Vantech F.A.S. CE level 1 approved armor at the shoulders and elbows, and back. The armor is easily removable for storage when not in use.
Belted at the hip the belt buckle itself is leather-covered to help eliminate the potential for tank scratches. Extra details for comfort include a ventilated mesh lining and a leather-lined collar with quilted shoulders and elbows. The sleeves on this touring jacket are trimmed with a tapered sleeve and low-bulk beading at the end to finish the wrist. The inner wind and outer storm flaps make this the ideal jacket to have in your closet for anything Mother Nature might hurl at you.
It's the little things
Embroidered on the breast our JANUS wreath is displayed proudly in complementary tan stitching. All our touring jackets come with a Janus Shoulder Patch on the right arm, and a VANSON emblem on the collar.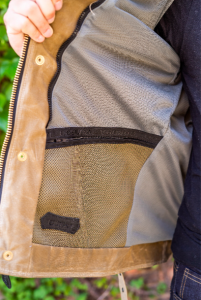 The enclosures offer security at every zip, button, and stitch. All the zippers are brass with black snap enclosures. The center front has a two-way, symmetrical zip to allow for a little more room at the hem when seated. Additionally, the side pockets have a 2-way entry: top-loading with a side-entry, plus a single zip-close exterior cross-chest diagonal breast pocket. Along with the Streamliner zipped vest, the interior features 2 secure zip wallet pockets so you can separately store your wallet, phone, and keys while you ride.
Size and Fit

Last but not least, all of our Vanson jackets come standardized in five sizes.
Standard Sizes:
SM(38)
MED(41)
LG(44)
XL(47)
XXL(50)
XXXL(53)
For a tailored Janus Vanson Motorcycle Jacket that hugs like your grandma, complete the Fit Guide form and receive a custom fit touring jacket. Our fit guide found here. Custom sizes, please allow 8-12 weeks for production.
Standard sized jackets, regularly priced at $550, however, a custom-tailored jacket will set you back an additional $70—a mere investment for a lifetime of riding!  Use code JM2021NYR at checkout to take advantage of our current 15% off on all our online merch.
Janus Motorcycles couldn't be happier to partner up with Vanson to create this one of a kind, heirloom-quality motorcycle jacket come to life. Only available at Janus Motorcycles.