Easy 4-Step Guide to Winterizing Your Motorcycle
January 14, 2021
Easy 4-Step Guide to Winterizing Your Janus Motorcycle
Winterizing your motorcycle will fill you with pride in your accomplishment, and you'll be glad you did next spring. We still have super deal happening storewide! Use Coupon JM2021NYR to take 15% off all merchandise in our shop! Restrictions Apply. Offer lasts until January 31, 2021
One bright autumn day a family of ants bustled about a warm day full of sunshine laying out their summer harvest of wheat in the sun to dry when along came a hungry grasshopper with a helmet under his arm and begged for something to eat. "What?" cried the ants in dismay, "You haven't stored any food for the winter? What have you been doing all summer long?"
"I've been too busy riding my motorcycle all summer that I didn't realize it was nearly winter." The grasshopper replied in earnest.

The Ant family shrugged their shoulders, shared their grain, and said to Grasshopper, "We'll help you with winterizing your motorcycle if you take us for a spin!"
Pretty sure that how Aesop told it.
–
First things first. Late season riding is often spur of the moment and trying to grab those last rides while you can, so sometimes you kick up a little more mud and wetness than you do during the dryer months. Our gas tanks are aluminum, and while many manufacturers of steel tanks would have you top your tank off with gas, we recommend going on a long ride to empty your tank for your last ride of the season.
Oils & Solvents
Winterizing Your Motorcycle: Step One
–
Clean & Wax
Winterizing Your Motorcycle: Step Two
Next, make sure that any debris and dirt is completely removed from your motorcycle frame to keep it from rust and scratches. Before giving your bike a scrub-down, use an old plastic bag to cover your leather seat and battery box. Remove any additional leather upgrades such as saddle and tool bags from your Janus. Use a hose to gently wet your bike and a soft, sudsy microfiber cloth or sponge to soap up your vehicle from the top down. Our favorite brand is IBIZ and can be purchased easily at most auto parts stores. Start with your tank, moving on to your headlight and handlebar area before working on the fenders, upper frame, and forks. Then work your way down to the swingarm, mid-frame, wheels, engine, and lower frame. According to our test driver Cameron, this minimizes the potential for cross-contamination of heavy debris like grease, dirt, and oil.
As tempting as it may be, do not use a power washer on your motorcycle paint. I repeat, DO NOT use any high-powered spraying devices over your pinstriping. Taking special care with your pinstriping ensures less touch up later. When done, use your hose again to gently rinse all remaining soap off your bike until the water runs clear. Use a NEW microfiber to dry your pony off from the top down, starting with the tank. We really can not stress the importance enough of using a fresh microfiber for every tank rub down to keep your bike looking pristine. We are not fans of over-packaging, but microfibers are one instance where you want to purchase these in sealed bags.
Condition & Tend
Winterizing Your Motorcycle: Step Three
Once the metal of your bike is clean, your leather is the next priority. We recommend Obenauf's Leather Cleaner sold separately, in addition to the Obenauf's Heavy Duty LP that comes included in our Winter Kits. The cleaner works well to remove grime and surface stains that tend to dry and crack leathers, while the LP works to moisturize and enhance and preserve your leather for years to come.
If you store your motorcycle in an unheated storage unit or garage without access to electrical outlets, bring your battery inside your home and hook it up to a battery tender. If you store your motorcycle in a climate-controlled garage or shop with access to power, then attaching your tender to your motorcycle battery direct should be just fine.
Protect & Check
Winterizing Your Motorcycle: Step Four
Finally, make sure that your bike is protected with a proper motorcycle cover to protect it from the elements and dust or debris. Check your cover periodically for moisture accumulating under your cover, as water can wreak havoc left unattended. Use moisture eaters if needed. Consider mothballs or other rodent deterrents to prevent your bike from becoming a nesting ground. When checking your motorcycle, roll it forward an inch or two to prevent your wheel from hardening in one spot.
Don't have a great place to store your motorcycle? Call around to area motorcycle shops to see if they are willing to store motorcycles for a small fee over the winter. There are still some good people out there.
Taking the time to winterize your motorcycle now gets you back on the road faster-come spring. Thanks for reading, and please, ride safe!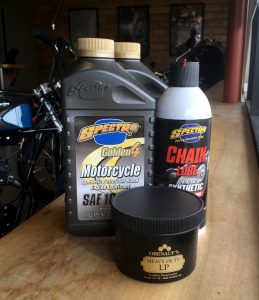 2 quarts of Spectro Oil
Chain Lube
Obenauf's Heavy Duty Leather Preserver
Plus a Motorcycle Cover
And NOCO Battery Tender!
Don't forget that we are still offering 15% off all merchandise in our online shop until January 31st. Use JM2021NYR when you checkout! This article contains no affiliate links.