On the Flying Dutchmen
October 22, 2019
I'd like to say a few words about the Flying Dutchmen documentary film now available on Netflix and Amazon Prime. The film is about a successful Elkhart County entrepreneur and the heartwarming story of his thoughtful gift to his friend and mentor, Daryl Zook. Daryl has played a central rôle in the life of Jon Helmuth, the film's producer, writer, and lead actor. Daryl, who is an incredible figure—an entrepreneur, father, philanthropist, and all-around curmudgeon—is going blind. Jon plans to take Daryl on a last sight-seeing journey across the country, starting in our hometown of Goshen, Indiana, and ending on the West Coast. He decides to build a motorcycle for the adventure, complete with a sidecar for Daryl.
At the same time—the summer of 2014—our company, Janus Motorcycles, is just getting into production with our line of unique, hand-built, small motorcycles in downtown Goshen. Jon decides to pitch the idea of using a Janus to Devin and me, (at that time also the only people behind Janus). When Jon suggested the idea to us, we immediately express our incredulity at the idea of attempting to take two grown men, a sidecar, and the required gear across the country on one of our tiny 50cc 2-stroke motorcycles. Devin and I have years of combined experience with small-displacement 2-strokes and are more than aware of the challenges of operating one with even a single rider on such a long journey. At the same time, we have always been adventurous risk-takers and are perpetually ready for a challenge. Jon assures us that he completely understands our concerns and that he really just thinks what we are doing is cool. If the bike has an issue or can't make it, it's not what the project is about—he can make alternate arrangements. On top of this, Jon assures us that he is going to give us great coverage, sell our bikes to his many Hollywood connections, and at all costs, make this a positive experience for Devin and me and for the company. We decide that it sounds like a fun opportunity for us to gain exposure and contribute to an incredible project and gift.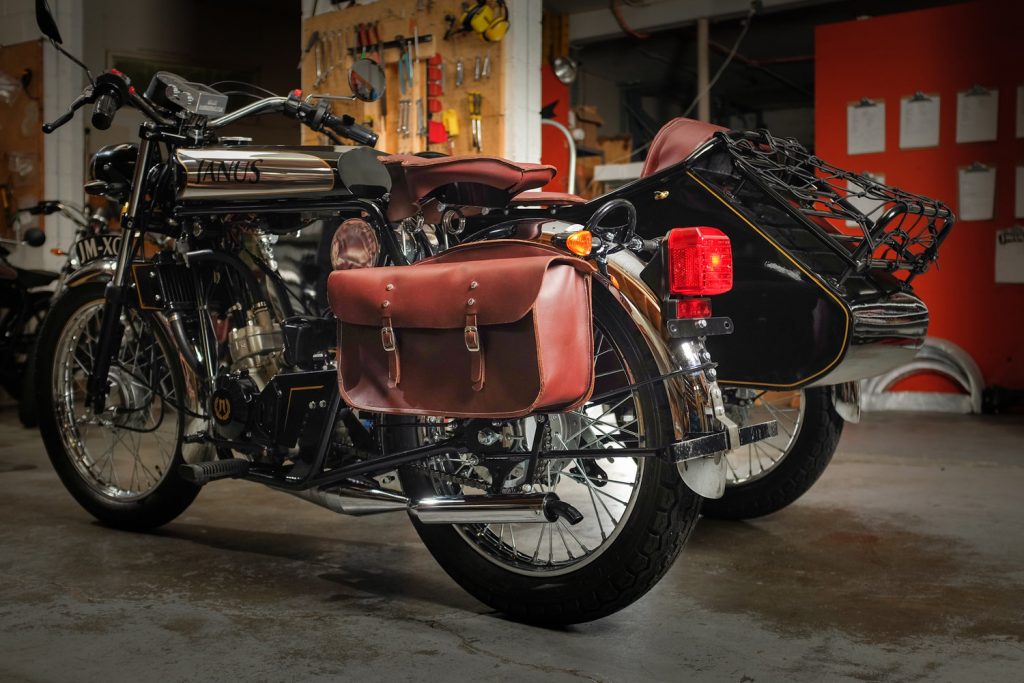 We, in turn, tell him explicitly in a letter prior to the delivery of his sidecar rig of the inherent risks of such an endeavor, especially with such an unsuitable vehicle:
"Our preferred method of developing a product is to build several versions and test them to the point of failure and then redesign the product based on what we have learned. In the case of this sidecar project, we only have around 30kms of testing on the bike. With this in mind, there are certain aspects of the bike and its intended use that we feel must be kept it mind: Our Halcyon 50 motorcycle is designed to carry the operator in standard motorcycle configuration. The engine, frame, suspension, wheels, and electronics were not intended for use in other configurations or with increased loads. We feel reasonably comfortable with your sidecar setup, however, we wish to impress on you that the motorcycle is designed for a 50cc engine and single operator loading for commuting and short trips. Because you are exerting drastically increased loads on all elements of the bike over a long route, the potential for structural or mechanical failure is inevitably increased. It is essential that you schedule several stops at motorcycle repair shops for preventative maintenance and safety checks. In addition to this, we recommend that you exercise extreme care, both of the vehicles during cornering, accelerating/braking, and climbing conditions; but also of the safety of rider and passenger. Sidecar rigs are inherently less stable than standard motorcycles, and as such, require considerably more control, care, and skill to operate than what is necessary for a standard motorcycle."
The bike was built in about a month and a half to meet Jon's deadline for departure, including the sidecar. The goal with the project was to make a sidecar that would fit perfectly with the aesthetic of the motorcycle, with the conceit that it would be outfitted for long-distance, albeit slow, adventures. Because of the rapidly approaching deadline, we decided to order a sidecar frame and chair. This decision almost proved to be the end of the project, as the sidecar arrived mere weeks before the delivery date and in terrible condition. As it was, the delay limited the testing we had planned. We ended up having to completely rebuild the frame down to cutting off and reattaching the bent swing-arm, removing pounds of body filler, and filling and re-welding all connections.
For the interior, we chose to add vintage style automotive carpeting in grey with a black padded sidewall upholstery. We refinished the sidecar seats and armrests in the same burgundy leather as the saddlebags, solo seat, and battery cover on the motorcycle. With regard to electrics, we added auxiliary fog lights and a marker light to the front of the sidecar as well as an amazing old vintage horn that can be operated in tandem with the motorcycle horn by either the rider or monkey. In addition to the horn, the custom aluminum sidecar dash featured toggle switches for the auxiliary lights, interior map lights, and a cigarette lighter charging unit. Additional custom options that the customer requested, included a hand-operated scrolling map holder which we sourced from and an engraved fuel cap featuring the customer's "Flying Dutchman" logo. Despite the rush, we had a good deal of fun with the design and fabrication of the bike, and it turned out beautifully–just not ready for a cross-country trip…
In the end, if there was a mistake it was certainly ours in allowing one of our 50cc Halcyons to be selected as a candidate for such a journey, especially with a sidecar. We did not have the foresight to see that we would be the ones to lose the most from the film. While the documentary spends little time on the Janus and the strength of the story lies in the character of Daryl and Jon's desire to create a perfect bonding experience, it proved for us to be nothing more than a great way to immortalize a naive decision on our part.
We regret that our customers, present and future, are shown this representation of our motorcycles. We regret that a custom request, born on the whim of someone who knows intimately the effect of negative press on a small company, affects the way our rigorously tested production motorcycles are viewed. On the positive side, it was an early lesson in never releasing a design or prototype without thorough testing. Needless to say, our testing since this has bordered on obsessive.