The Janus 450 Engine: Part One
September 2, 2021
The Janus 450 Engine: Part One
With the launch of the new Halcyon 450, I thought I would take a minute to discuss the heartbeat of the new machine: the engine. I've written previously about the "bulletproof" heritage of our 250 engine and our reasons for selecting it: simplicity, ease of maintenance, reliability, and lightweight. When we set out to design the successor to our flagship Halcyon 250 model, not much of that design brief changed.
The primary difference was that we wanted to offer a Halcyon that could better handle highway traffic. We also wanted an engine with fuel-injection. After taking the 250 line through EPA and California ARB testing we knew exactly how difficult taking a carbureted engine through 50-state emissions testing could be and knew that it would only get harder as we increased engine size and performance. However, there was also a lot about the Halcyon that we wanted to continue: the classic styling, lightweight, ease of operation & maintenance, and time-tested reliability being at the top of that list. 
Same Halcyon, highway capability
For us, this meant that that we wanted a more powerful engine capable of at least 85mph (the 250 tops out around 70mph), but not one that would take us out of the realm of a lightweight, approachable machine with manageable power. Even more importantly, we knew that whatever we chose needed to be easily maintained or repaired without expensive factory tools and training, and if possible, based on a well-known design with a long-standing knowledge base. This is important because we believe in encouraging owner involvement in the upkeep and maintenance of their Janus and because we also rely on a network of small independent shops around the country for customers that don't feel comfortable doing their own maintenance or repair work.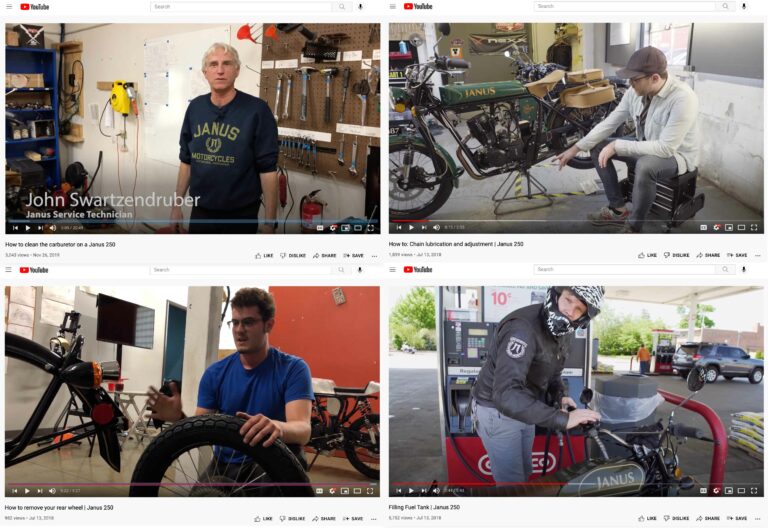 Our Criteria
What we ended up with was the following list of requirements:
Traditional design and look that would pair well with our timeless styling
Well-known platform for service familiarity
A long history of reliability that would offer similar low maintenance to our 250 line
A supplier whose quality and long-term stability we could count on
Around 30hp to get up to 85mph, but maintain our lightweight, manageable appeal
A single-cylinder for overall simplicity
Air-cooling for both aesthetics and simplicity
Fuel-injection to streamline meeting modern 50-state emissions regulations
This list of requirements narrowed our search considerably. Our scale and projected order quantities took most large manufacturers off the table, but left a small number of lower volume brands with mid-sized engines. Eventually, our research led us to the small Italian manufacturer, SWM, based about 50 miles northeast of Milan, just a few miles from the MV Agusta and old Cagiva plant. Not only did SWM offer a traditional, air-cooled, single-cylinder 450 engine, but they had a history of offering crate engines to limited production motorcycle brands, including British CCM.
SWM Motorcycles
The story of SWM is interesting in its own right. The small off-road motorcycle company was founded in a garage in 1971 by two Milanese friends and riders who wanted to build competitive off-road motorcycles which were becoming increasingly popular. From the start, SWM used crate engines in the 50cc-125cc range from German company Sachs in their lightweight chassis, but by the mid-seventies they shifted to larger Austrian Rotax powerplants. After over a decade of European success in trials and enduro competition, the company went out of business in the mid-80's.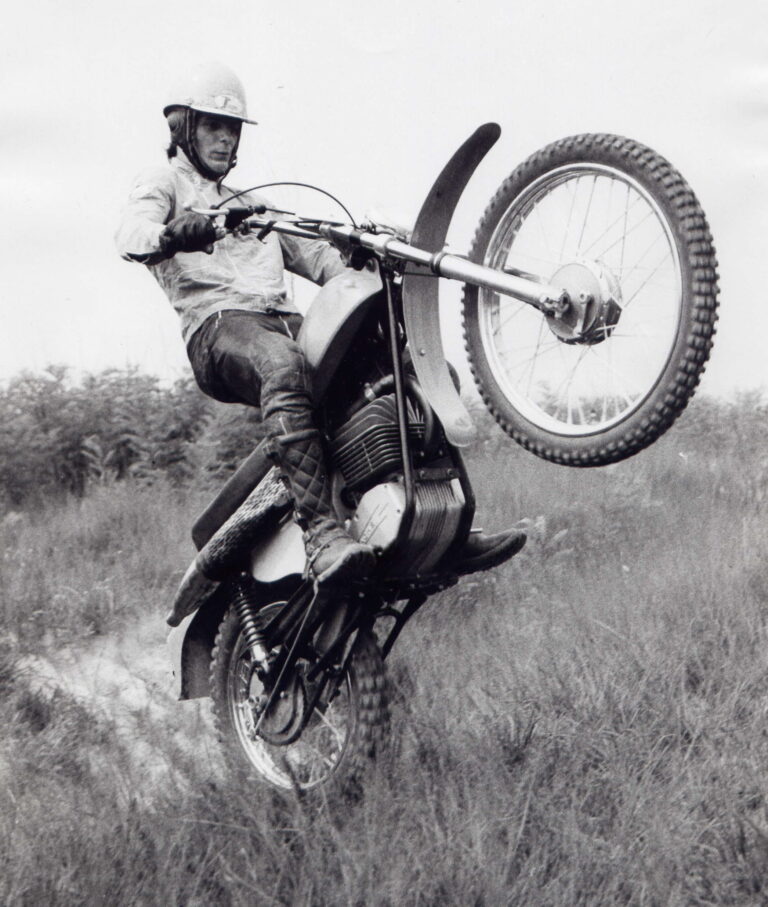 SWM Returns
Fast forward to 2014 when BMW decided to sell the Husqvarna brand (then based just northeast of Milan) that it had acquired several years prior. The sale left a newly renovated factory, a trained workforce, all the Husqvarna designs and parts, and the highly experienced engineer responsible for most of those designs: Ampelio Macchi. Using investment from Chinese transportation giant, Shineray Group, Macchi, who had led design at Aprilia, Cagiva, and Husqvarna, revived the SWM brand in 2014 to focus on a full lineup of almost a dozen off-road and enduro motorcycles ranging from 125cc to 650cc, with one exception: the "Classic" line of traditional air-cooled 445cc street bikes.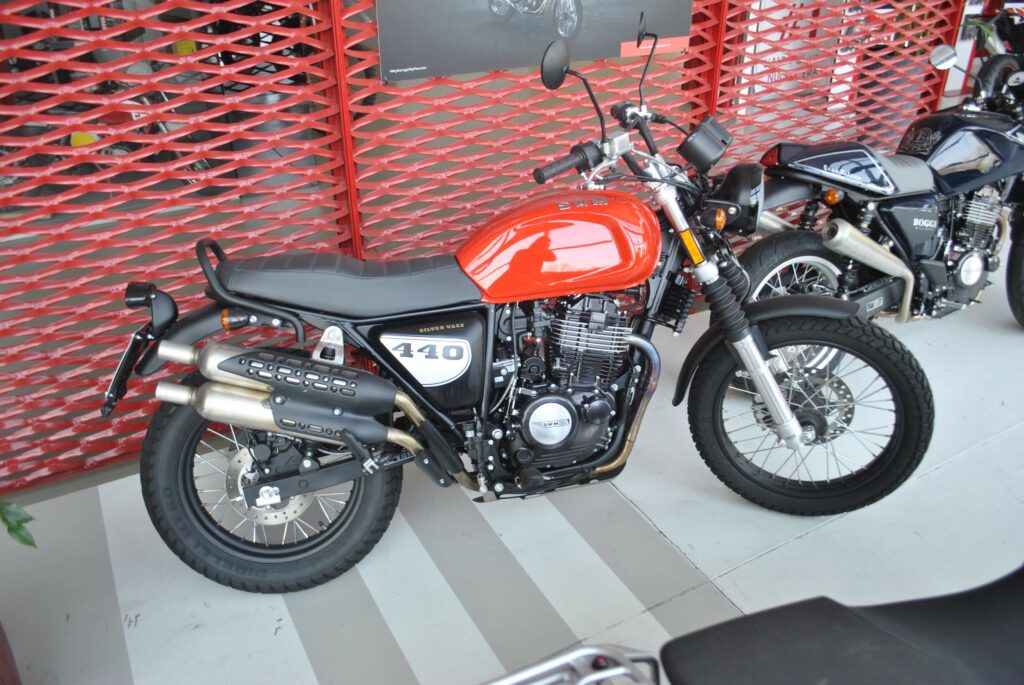 "Middleweight" Power
It was this 445cc engine that caught our attention as we searched for the right "middleweight" powerplant for the new Janus. A good looking and simple air-cooled single with electronic fuel -injection, exactly the power we were looking for, capable of passing Euro (and thereby EPA) emissions, and all based on a tried-and-true Honda design perfectly fit the bill. Added to this, it had received very positive marks from almost every reviewer that had a chance to test it.
In February 2019 I visited the the SWM factory to learn more about the operation and discuss the feasibility of sourcing engines. I met with their head of international sales, Sandro Caparelli, toured the plant, and test rode their 440 "Silver Vase" model. What I saw and experienced was a well-funded, state-of-the-art operation with a passion for design and quality, and even better, that was very interested in our project and willing to provide us with engines and fuel injection systems.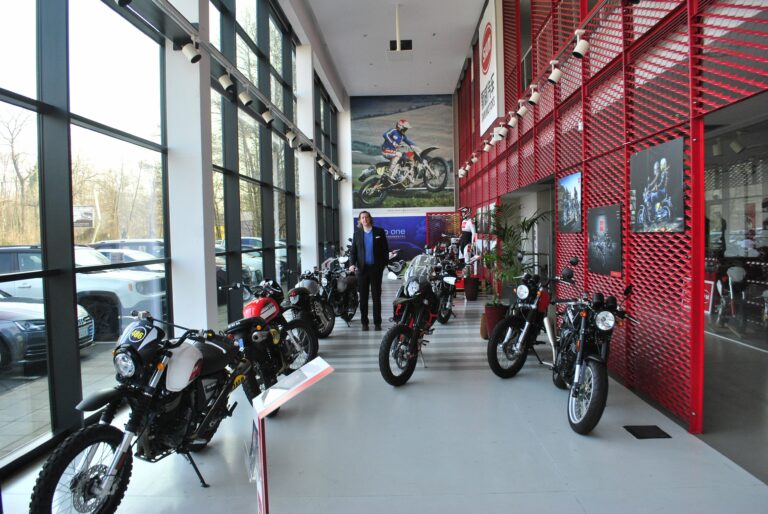 Engine assembly


125 frames


Classic 440 waiting for shipment


Warehouse


(The old Cagiva plant is right up the road…)


Modeling underway in the "centrostyle"


The SWM plant is the old Husqvarna plant


A vintage SWM motocross display bike


The 445cc "classic" engine

The SWM 445
The "Classic 440", as it is called by SWM, is not an old Husky design like the rest of their lineup. Instead, it's a completely new combination based on SWM's ties with Shineray and experience in the enduro market. Shineray is one of the Chinese "big four" which includes Lifan, Loncin, and Zongshen who in recent years have built a variety of engines and components for Piaggio, Vespa, Peugot, Kymco, now-defunct Norton, BMW, Suzuki, Yamaha, Honda, and yes, Harley-Davidson. Shineray has built engines and motorcycles under contract for Honda and has offered an inexpensive 400cc version of the older Honda XR400 enduro engine for a number of years. This 400 and variations can be found on a number of "retro-styled" bikes available in Europe and the US, including Mash, Herald, Genuine, Bullit, AJS, and Benelli.
A Proven Design Reimagined
For the 440, however, SWM redesigned the engine completely, increasing displacement to 445cc, adding oil cooling, and partnering with Athena, a leading Italian performance parts supplier for the electronic fuel injection system and mapping. As we will see, this suited our requirements perfectly. 
Stay tuned for part 2, where we explore the details, specifications, and fascinating history of the SWM 440 engine and detail the process of integrating the engine into the new Halcyon 450!