Halcyon 450 Motorcycle Review & 250 Ride Along
August 13, 2021
A Comparison of the Janus Halcyon 450 & 250 From Owner Tom Neel
By Tom Neel
Its throttle drives you out of corners with conviction, as you muscle your way through country roads of character, before then rumbling your way down a long straight. The new Halcyon 450 feels Halcyon familiar, but there's definitely more meat between the buns!
If the new Halcyon 450 is of interest, like me, you are one of two Janus enthusiasts. You either currently own a Janus 250, likely a Halcyon, and you are wondering if the new Halcyon 450 should join or replace your 250?  Or, you are new to Janus, have been looking at their interactive website wondering which Halcyon do I choose? Is it the lightweight, rigid frame 250, or the all new, beefier, fully suspended and fuel injected 450?  I am about to do my best to answer your question.
Allow me to share a little about myself. I've been riding for 50 years. I've owned many motorcycles and brands, including two 1989 Honda GB500s which generationally shares this 450's engine. But my newest is a six month old, vintage red, 2021 Halcyon 250, now with 4,000 miles. Just two weeks ago I completed a 600 mile loop on it, which included the length of North Carolina's portion of the Blue Ridge Parkway (story to follow).  Writing for Janus' blog has been my latest pleasure, though I've written north of 75 articles for the Porsche Club of America.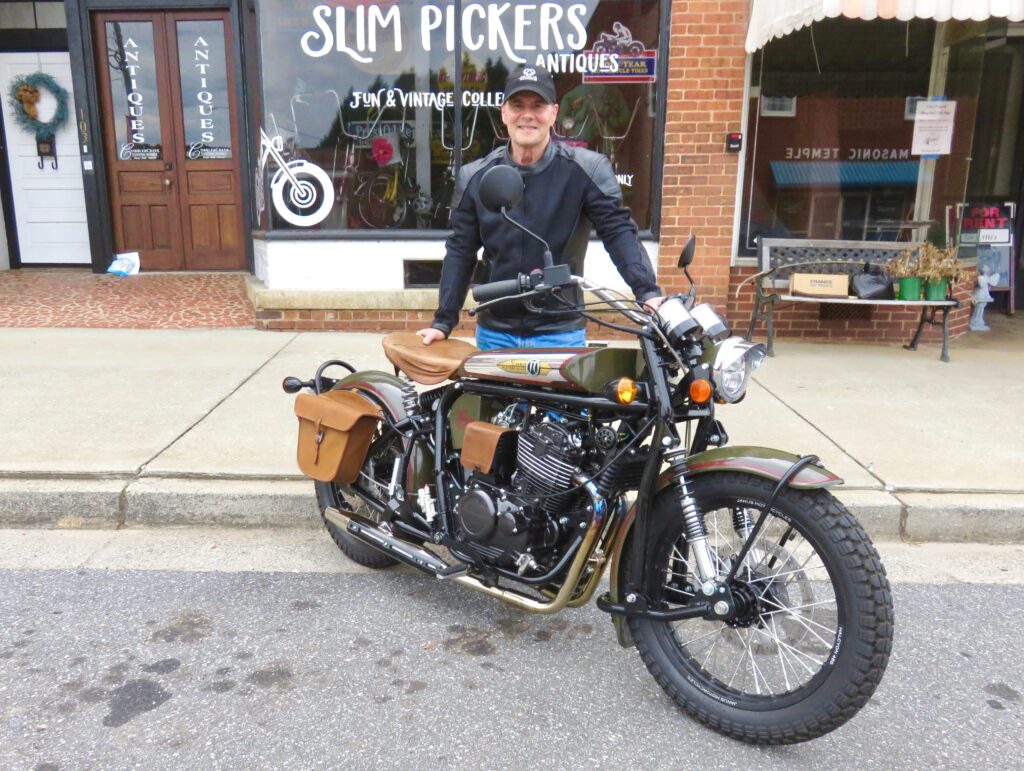 Now I share this with you only because, if there is anything I have learned as a Janus owner, it's that we are a diverse family. We are different sizes, genders, with vastly different amounts of experience and backgrounds. We all use our Janus motorcycles differently. Some have a stable of motorcycles, others just their Janus. Some are 100% urban in their approach, with limited annual riding miles. While others like myself, seek every country road or adventure they can find. Still, we all have one thing in common. We all find Janus motorcycles unique and we love them for that!
So I've been given the opportunity to put what we all want to know into words. My review ride of the Halcyon 450 was done here in my home state of North Carolina, on not only the same roads I ride my 250 on, but with Janus' Woody Shoemaker on my 250 following behind me. In switching from one to the other, this would allow me to also make a very direct comparison. But let's begin with the obvious. What draws us all to Janus in the first place is their vintage good looks.
Every Janus model can be described with just one word – cool. So, does the Halcyon 450 uphold the same visual applause? Yes, it most certainly does. The moths attracted to the flame when both models were parked for fueling, were equally a glow. In many cases, I don't think they even immediately saw the difference until conversation alerted them that one was a double cheeseburger. The familiarity is unmistakable, but I'll spin it this way. Where the Halcyon 250 offers a 1920s vibe, the 450 is more 1930s. The additional girth in engine, frame, fenders, and tires, adds a decade of evolution to its aesthetics. In the process it becomes a bit more cruiser-ish. Not a bad thing and likely right inline with the 450's potential fan base.  Every American iron motorcycle guy that has seen my 250 has loved it. I think they will like the 450 even more. I predict a greater mating of sidecars as well.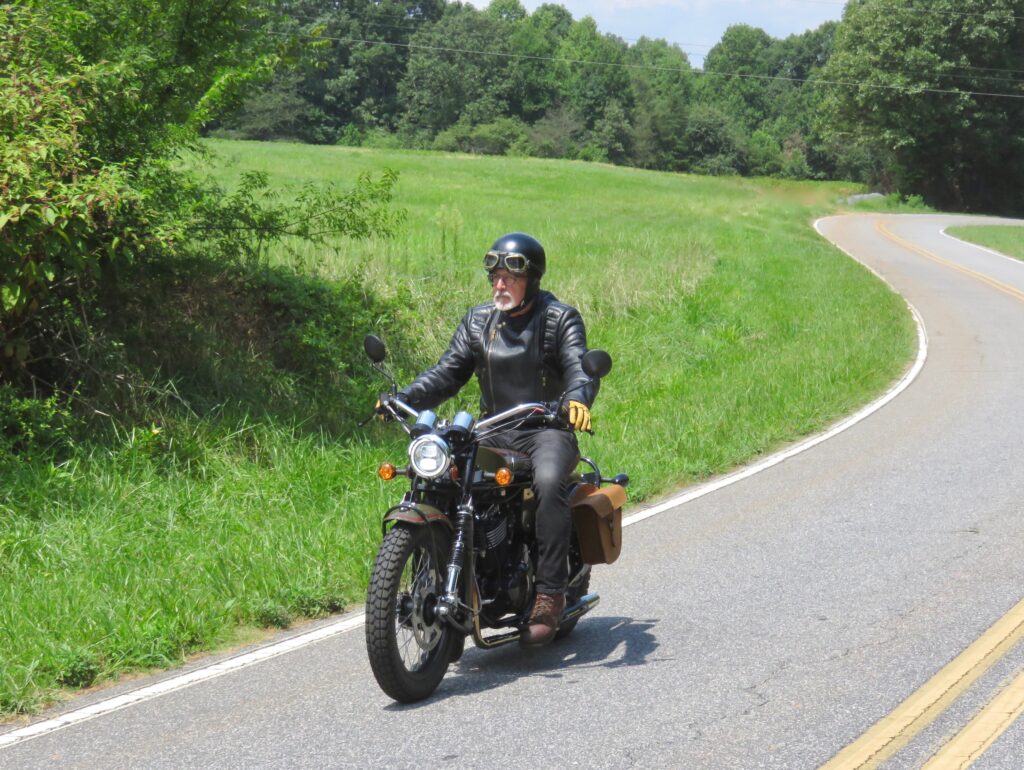 Frame, fenders, and tires, adds a decade of evolution to its aesthetics. In the process it becomes a bit more cruiser-ish. Not a bad thing and likely right inline with the 450's potential fan base.  Every American iron motorcycle guy that has seen my 250 has loved it. I think they will like the 450 even more.
Sit on both side by side and frankly, you'll find little difference in outright ergonomic feel, seat height and sight line. The tank, handlebars, headlight and front end are all shared with the 250, so Halcyon normalcy is only given away by the 450s larger twin gauges. The 450s beefiness is all from the tank down, where its fatter frame tubes cradle more motor and twin exhaust pipes accent each side of its noticeably 3" longer, fully suspended wheelbase. It's actually 6" longer overall. Necessities like the front mounted oil cooler and exhaust lambda (oxygen) sensors for its fuel injection are visual interruptions, but part of progress. The ECU itself is nicely tucked up under the tank. All and all, the folks at Janus have done a nice job of slipping the 450 into the 250's vintage groove.
The 450's electric start (no kickstart) brings it to life without fuss. There's no choke, no petcock, and no cold bloodiness on this warm summer morning. Both at idle and under throttle, there's a pleasing rumble. Italian based SWM's interpretation of Honda's old RFVC – radial four valve combustion (hemispherical) head, features twin exhausts which mimic a parallel twin, but it is a single. International development has taken place in this engine's life to bring it to this point. It lives and breathes today around the world as a 445cc, 4 valve, fuel injected single, with a wet clutch and five speeds. During my ride, neutral was always easy to find, and while the tach on this preproduction bike wasn't functional, I know with SWM models which share this engine, redline is 10,000 rpm and its happy place is between 5-8K. That felt about right.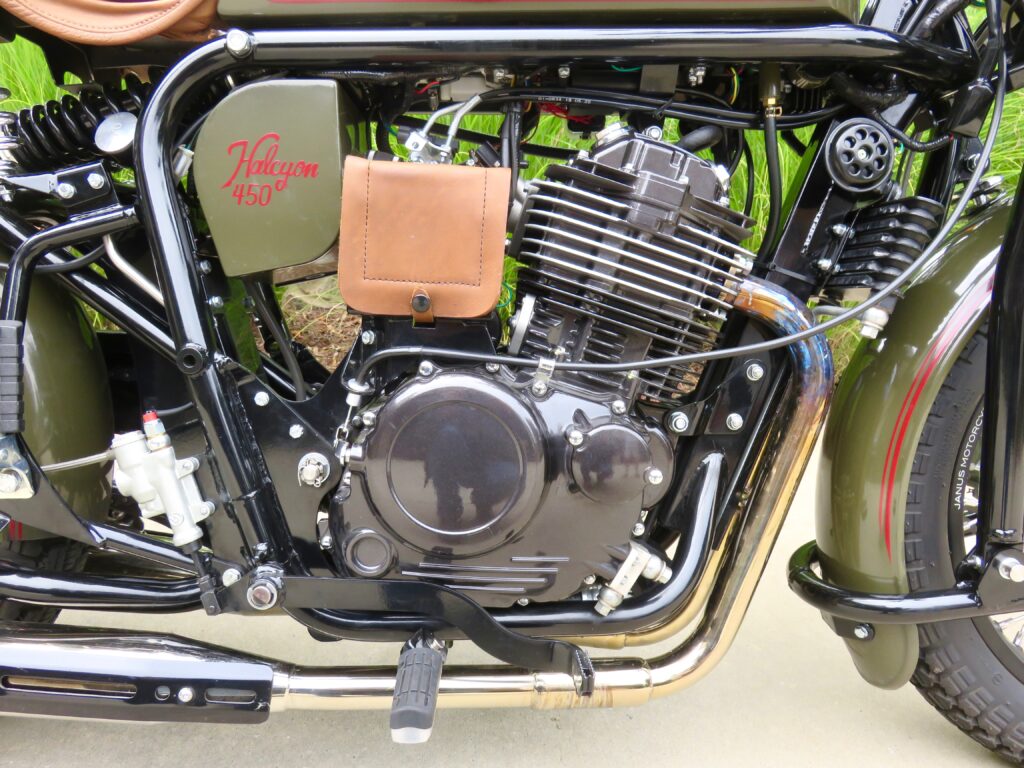 Let's go for a ride! Right off I'm happy to report good fueling. To those unfamiliar with varied fuel injection systems, they can be snatchy, much like an on off switch. I hate that and am happy to report the 450's throttle was smooth and un-temperamental during my whole 145 mile test ride. This is an oversquare 4 valve engine. So those expecting the super torquey vintage thumper feel, all is not lost, but it is more rev happy. I found it up to the task, briskly climbing to 80mph, with an indicated 90mph coming just a bit less rapidly. At those speeds vibration is noticeable through the grips, but at a more happy and legal 70 or so, things are fine. I would only add that going 60mph "exactly" felt between 4th and 5th gear. 4th wanting me to shift up and 5th then wanting me to go more like 63mph. Having Woody on my 250 behind me, meant going much above 60 would have him with throttle pinned and getting smaller and smaller in the mirrors. We made it work though.
The word motorcycle is made up of two words, and with the motor covered, let's talk cycle. I've found the Halcyon 250 to be one of the most fun motorcycles I've ever ridden. A featherweight at about 270 pounds wet, it becomes an absolute scalpel on a twisty road. The 450, with its wider rubber and weighing at least 90 pounds more, requires a little more coaxing under the same conditions. However, its added power hustles you out of turns with smile churning sureness!  When the road gets undulating and twisty, you simply ride these two bikes differently. The 250 more through a corner, the 450 more out of it.  Both capable, and both enjoyable. For some, like me, pushing the 250's capabilities, using all it has to give, feels immensely gratifying in those twisty challenges. But others will find the 450s additional torque an easier way to go. Worth noting here too, that the 450's upgraded Brembo brakes are a welcome necessity for this model. They are thankfully non ABS. That's not to say I'm anti ABS. But on this motorcycle the added hard and software to accommodate that feature, I fear would have been be a step in the wrong direction.
Past its larger engine, the second of the two big changes the 450 offers is its rear suspension.  While the 450 shares the 250's leading-link front suspension, the 250's suspension-less rear end has been addressed via the 450's  "proprietary" cantilever-style swingarm suspension with twin Ikon shocks.  Now I feel it's important to make a point here. Many who have not ridden or felt the Halcyon's rigid rear end, may unnecessarily fear it. I personally love it. It is not without some bumps, but it's also not without suspending your body completely, as its seat has very capable springs, along with being a perfect fit. But one must also understand that tires too are suspension. Being pneumatic (filled with air), there is give, and so both parts offer useful cushioning.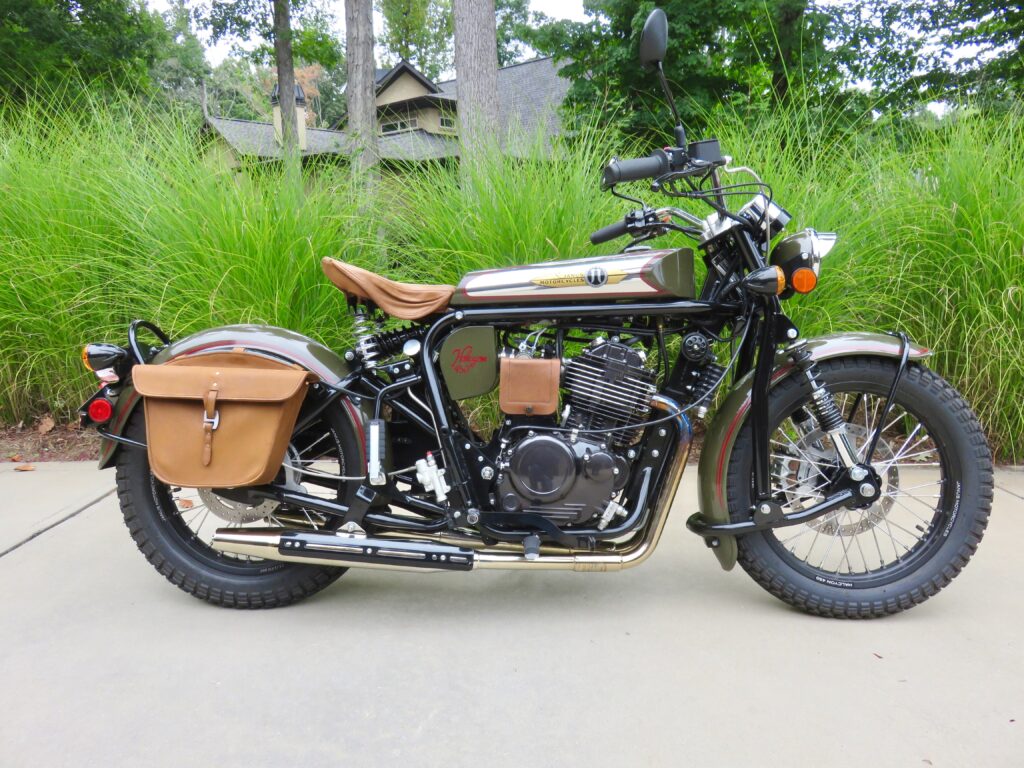 The 450 however, not only offers its rear suspension, additionally it has more seat spring travel via more leverage and longer seat springs. Combine this with its fatter rear tire (4.50X18) vs the 250's (3.50X18), and frankly even if both were rigid, the 450's ride would likely be the better of the two. I will share that I'm 5'6" tall, weighing 145 lbs, and the rear suspension was stiff enough for me that I felt the the seat springs and fat tire were doing a good part of the work. This is not likely the case for someone of more average weight. But jumping on the pegs I could feel its movement and I'm sure most will appreciate the upgrade, especially on those washboard like roads! I felt the 450's new Sargent seat was an improvement over the 250's stock narrow seat, and somewhat similar to the optional wide seat I have on my 250, though I do like that Sargent's design is a bit more swooped up in the rear.
This brings me to fuel milage, range and tank size. I must remind you this is one of only 3 pre-production 450s built, which only has about 1000 miles on it. My 250 also runs a 45T rear sprocket, so nothing here is too scientific. Many things can also mess with actual fuel mileage. But I did one primary mileage comparison by filling both before leaving, riding the same miles, and refilling both myself again to the same spot at the bottom of the neck. 68 miles netted 64mpg for the 250, which is actually at least 4 to 5 mpg lower than I normally get. This was likely due to Woody having to keep up! The 450 however, got 48mpg. In fairness, I was testing it, trying different gears at varying speeds, and at times leaving my 250 in the dust. But the take away is, with the 450 sharing the 250's same tank capacity, this will affect its range. That said, for the most part my bladder only goes about 80 miles, which fits fill ups for both pretty perfectly. I think this will do for most riders, but I could see a time when Janus may want to consider fabricating an optional 3 gallon interstate tank, much like Norton did with the Commando years ago. For now, it's completely understandable why they've chosen to stay with the one they have.
So which one should you choose?  At no point do I want to diminish the 250s capabilities. In fact, just the opposite, as at no point did I tell myself, oh well, the 250 has to go. So I'll split it this way. If you are a new rider, or even new back to riding, the 250's featherweight and accommodating nature, I believe will be best. The same would be said if your mission is urban in nature. The 250 is perfect for cafe runs. Lastly, if you're mission is enjoying country roads and speed limits mostly 60mph and under, I also feel the 250 is a incredibly fun motorcycle. Mine is not going anywhere.
As for the mighty Halcyon 450, right off the bat, if you are a commuter, tourer and interstates are part of you mission, the decision is a simple one. The Halcyon 450 is for you!  Or perhaps you are a go big or go home type owner. One who spares no expense in splurging for top of the line. Again, the Halcyon 450 is now Janus' premium offering. Go for it!  Or maybe, like Janus' owner Richard Worsham, you're a person of elevated stature.  Even he would tell you that the 250 seems to fit everyone. But the 450 will be a better fit.
Which leaves the two Halcyon theory. Should you own both? Both are cool, and both usable in their own way. With base prices of $7,495 and $13,500, the price for both is still less than one of those dressed up American cruisers, with two times the amount of cool! Here's hoping I've made your decision easier!  There's only right choices to be made here!